Wooden formwork beam Compact C 20/8
- typically steidle.
The steidle-Compact C 20/8 is the legendary timber formwork beam. The well-known durable characteristics are reached by its structure with 5 glued solid wood lamellas from Nordic quality. These make it an economical, universally applicable beam with high carrying capacity for all formworks.
TECHNICAL DATA
the following should be used for structural calculations outside Germany:
max. shear force
Q max = 14.2 kN
max. bending moment
M max = 6.9 kN
weight
5.9 kg /lfm
dimensions of upper & lower flange
80 mm x 37 mm
brace width
56 mm
beam height
200 mm
beam width
80 mm
lengths in metres
1,50 – 6,00 m
special lengths available on request
up to 12.00 m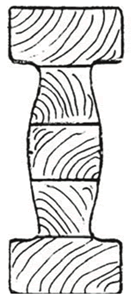 TECHNICAL DESCRIPTION
FLANGE AND CONNECTING BAR:
Manufactured from special pine (solid wood) of Nordic quality with limited annual ring width,lengthways finger jointing in accordance with DIN 68140-1.
Manufacture:
The gluing of upper flange, connecting bar surfaces and lower flange is carried out parallel with the grain and butt-jointed in accordance with official adhesion requirements.